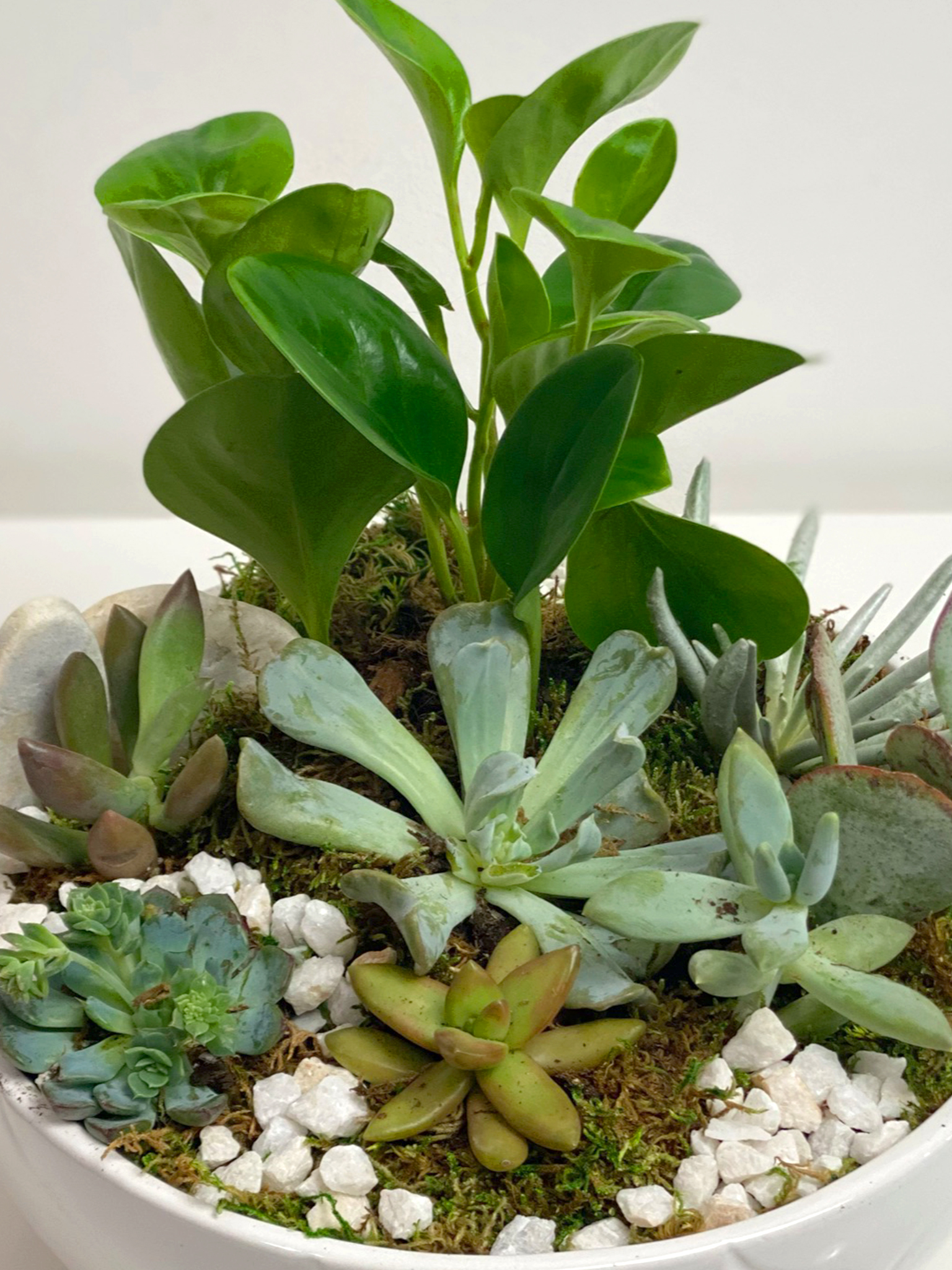 Having trouble keeping your succulents alive? So, you don't have a green thumb? NO PROBLEM!
These hardy miniature plants are not only cute, but they are low maintenance and can survive even the most neglectful plant owner. With that said, these miniature gardens do require a little bit of love to last.
Here are 4 easy tips for keeping your succulents alive.
"Soak and Dry"
The most common way that succulent lovers will kill their plants is by overwatering. When you overwater a succulent, this may cause the roots to rot. Unlike other houseplants, succulents prefer when their soil becomes dry before being watered. The "soak and dry" method is great for succulents – soak the soil to nourish the roots, then allow the soil to dry out for 2-3 days before watering again. A good rule of thumb is to water small pots about once a week and large pots every two to three weeks.
Drain the Excess!
Another way to avoid the dreaded "root rot" is to ensure your succulent garden's vessel is properly drained. If the pot that your plants are currently in does not have drainage holes in the bottom, water these plants lightly.
Bring the Outdoors Inside
Despite popular belief, succulents do not thrive if they have too much sun exposure. With outdoor temperatures soon reaching over 90 degrees, your outdoor potted succulents may appreciate a little time indoors. Generally, you will want to ensure that your outdoor succulents get around six hours of indirect sunlight per day.
It is much harder for indoor succulents to receive adequate sunlight. If possible, place your succulents in a bright area that gets as much sunlight all day. The next best option is to keep them in the brightest room in your home.
Succulents Need Food
Although you can maintain a succulent in a low-nutrient environment, your miniature plant will thrive best if fed. Luckily, this only requires you to add fertilizer to the plant's soil on an annual basis. We typically recommend finding an organic fertilizer and cut the typical dose in half. This will keep your succulents healthy and strong all year long!
Need help keeping your succulents alive?
If you are looking to add succulents to your in-home garden, come in and visit our store! We offer an array of houseplants and succulents gardens. Succulent gardens make the perfect gift and can be delivered directly to the recipient (or to you!). Call us directly at 469-545-2797, online at www.luxestems.com or in person at 4350 Main Street, Suite 120 in Frisco, Texas to see what we have available.