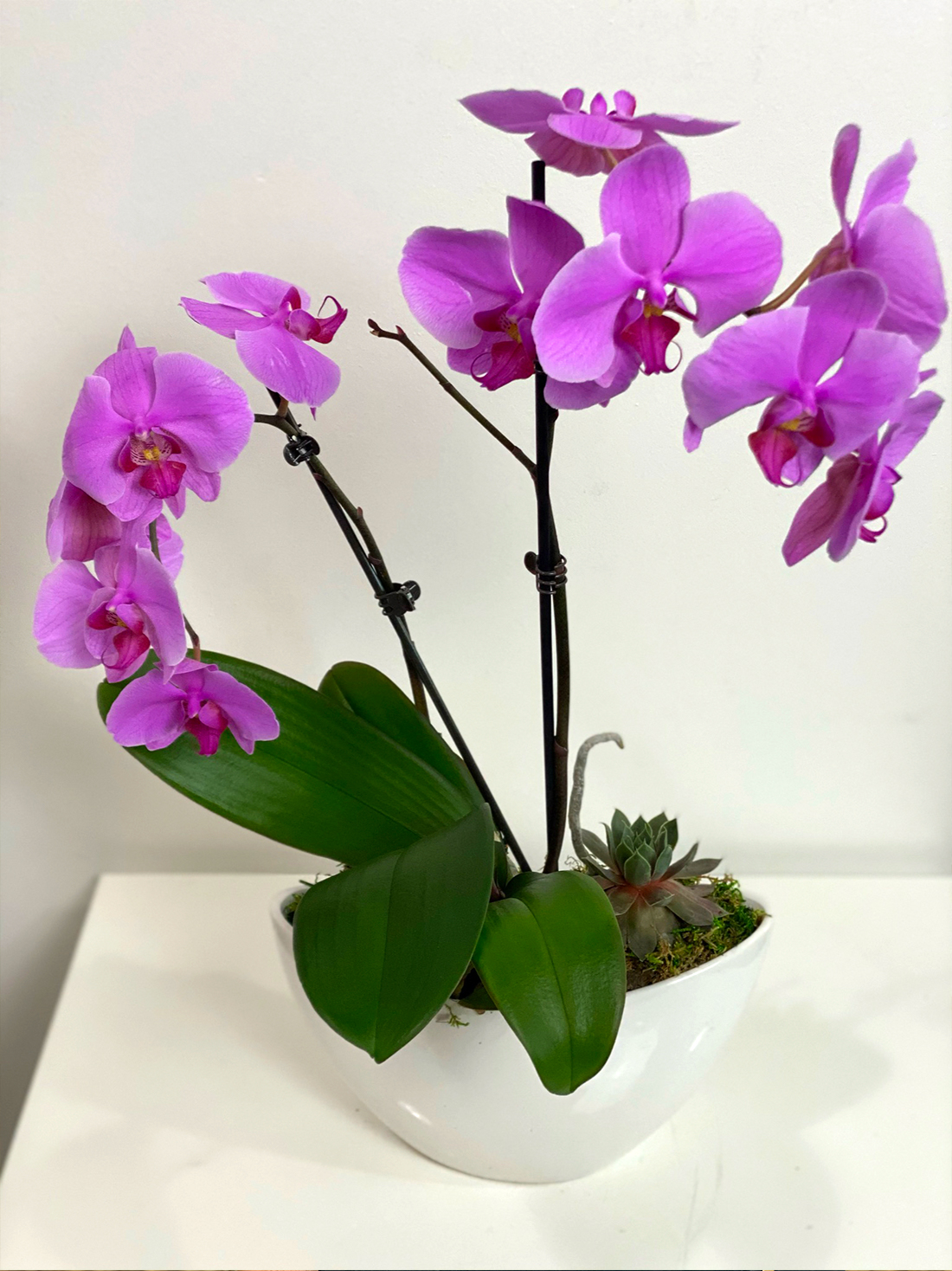 Caring for your orchids can be a challenge! The gorgeous orchid is one of our most popular plant requests. They are the perfect complement to any occasion! Such as Mother's Day, birthdays, housewarmings – they simply add beauty to any room in your home.
To keep your orchid blooming beautifully, follow these tips from our Master Floral Designer:
Water: Orchids require ample water, but make sure that you allow the soil to feel dry to the touch in between soaks. To check the soil, poke your finger about one inch into the soil. If the soil feels dry, then it may be time to add water.
Sunlight: Orchids prefer indirect sunlight. The perfect placement would be in an East or South facing window. Make sure your orchid is not in direct sunlight for too long as this may scorch your plant and prevent it from flowering.
Humidity: Orchids love humidity.  If you live in a dry climate, we suggest lightly misting your plant daily or keeping it in a room with a humidifier.
Repotting: To keep your orchid blooming through the years, it is recommended that you repot your orchid every other year. If you have followed all the tips above and your orchid still isn't blooming, it may be telling you that it needs to be repotted!
More information about caring for your orchids
Not only is the orchid stunningly beautiful, but there are more than 25,000 documented species of orchids! Different colors of orchids have different meanings. The most popular are white orchids, which are a symbol of purity, luxury, and elegance.  Another common orchid color is the purple orchid which represents respect and admiration.
The average lifespan of an orchid is approximately 20 years, but they can live up to 100 years! Orchids often take 5 to 7 years to flower, so the orchids that you will find in our floral design gallery are typically at least 10 years old. These beauties can last another decade or more when well cared for.
In addition to orchids, our shop is stocked with other beautiful plants for those who prefer a gift that will last longer than the average floral arrangement. To check out what we have in store, stop by our floral design gallery, located at 4350 Main Street, Suite 120, Frisco, Texas 75033. At times, we may have additional plants available that are not listed online. We look forward to seeing you!