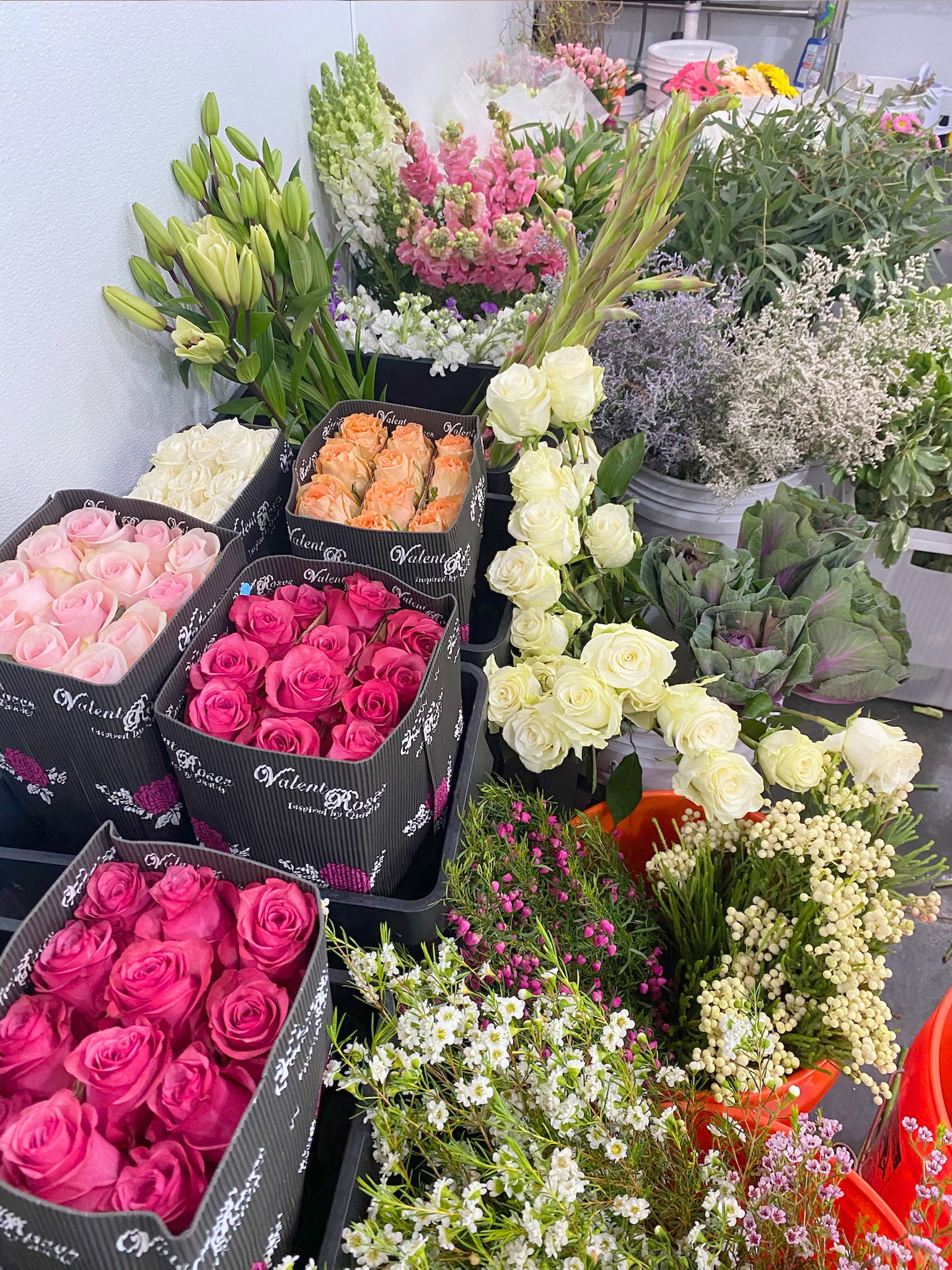 Welcome to our exclusive behind the scenes post! Have you ever wondered what it is like to be a floral designer during a holiday season? Have you thought about working in a flower shop? The hustle and bustle of a holiday causes loads of excitement and energy at Luxe Stems.
Behind the Scenes: Let us give you a peek into our cooler!
The first step to having a successful holiday is to make note of any custom orders and count how many overall orders have been placed. Once we have an idea of what we need, we work with our flower wholesalers to select the perfect, in season blooms for our customers.
Then, it is our favorite day: flower delivery day!
When flowers arrive in our shop, they arrive in large, long boxes. Inside these boxes, the flowers are separated by flower type and color. Next, we open the boxes and place all the flowers in giant buckets of water and into an large walk-in cooler where the flowers will stay until they are carefully selected and placed into your flower arrangement.
Once our floral designers have your floral arrangement requests in hand, the fun begins! Our designers review every request to ensure that we create a stunning, unique arrangement that is made just for you. We often customize the vessel, match certain colors, or add a favorite flower.
Currently, our most popular flower requests are roses and hydrangeas. We also love creating flower arrangements with ranunculus and peonies, which are in season. We add greenery to create a "luxe look" that you can't find anywhere else. The details make the difference!
Once your arrangement is ready, we add your custom note to the recipient and place the arrangement in the cooler. Now your premium blooms are ready for delivery!
DESIGNERS TIP: Add a small amount of fresh water to your flower arrangement once it arrives, just in case any water has spilled during delivery.
Each week, we keep a select number of arrangements ready for you to stop in and pick up on your way home or to your event. These pre-made flower arrangements can be found in the small cooler in the front of our floral design gallery. We look forward to creating your next Luxe flower arrangement. Order now at luxestemsfrisco.com or send us a message.